Genergy 6101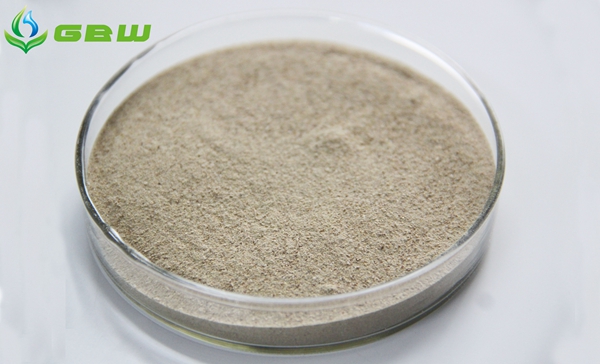 Genergy 6101 is one kind of compound enzyme specially designed for the corn-soybean meal based diet. It can degrade the main anti-nutritional factor mannan in soybean meal efficiently. It also contains NSP enzymes and amylase, gives full play to multiple enzymes synergistic effect, and improves the matrix value of feed.
Components:

Xylanase, Mannanase, Amylase, Protease, compound enzymes by solid fermentation.
Functions:
1. Release the matrix value of the corn-soybean meal diets and increase DE. Genergy 6101 can destroy the cell wall of the raw plant ingredients and release more nutrition from the plant cell.
2. Make the digestive tract healthy, enhance animal immunity, and improve farm conditions. Genergy 6101 can degrade NSP into oligosaccharides, which is helpful to the production and growth of the beneficial bacteria. It can increase the digestion and absorption rate of the protein, decrease the nitrogen excretion and improve the farm environment condition.
3. The compound protease can degrade antigen protein and insoluble protein, thus reducing intestine stress and increase protein utilization.
Trial results:
1. Digestive Trial in Vitro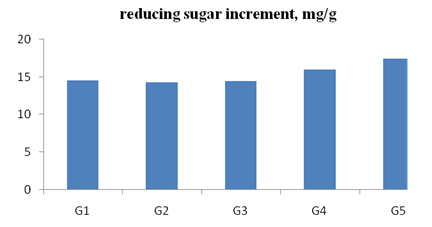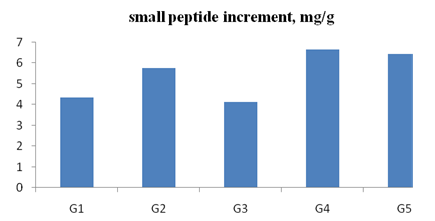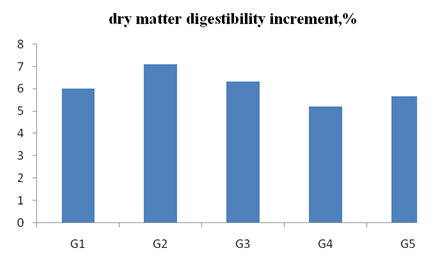 For the different kinds of corn-soybean meal diets, Gnergy 6101 have a significantly positive influence on the reducing sugar increment, small peptide increment, and dry matter digestibility increment in vitro experiment.
2. Animal Trial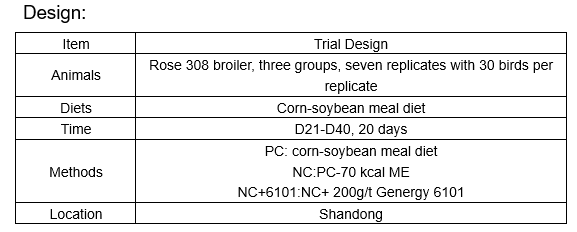 Results:


From the animal experiment, we conclude that Genergy 6101 can provide extra energy by utilizing the nutritional value from the diets.
Usage and dosage:
1.Add products into powder, granular, and concentrated corn-soybean meal feed of livestock and poultry directly after stepwise dilution.
2.100-300g Genergy 6101 is needed for one ton complete feed according to feed formulation.
Precautions:

1.Stored in shady, ventilated, dark, and dry condition, stay away from rain and dampness, and don't contact with toxic and hazardous substances.
2.Use as soon as possible after the package is opened, and the remaining part needs sealed storage.
3.Avoid inhalation when using, avoid contact with skin or mucous membrane, rinse with water immediately if it happens.
Shelf life:
The shelf life is 12 months, stored at a shady, ventilated, dark, and dry place.
Package:
Powder, 25kg/bag.